It is our pleasure to introduce you to the kind, adventurous, loving, intelligent, and soulful recipients of our Explore Life in 5D grants. Their commitment to supporting the ascension of the Earth, and all life upon her, inspires us and motivates us to further develop our own fifth dimensional lifestyles.  We hope you are uplifted by their service, creativity, and dedication to loving.  And we encourage you to explore the gifts our recipients offer.
December 15, 2017 – Tom Cassella, Flower of Life Music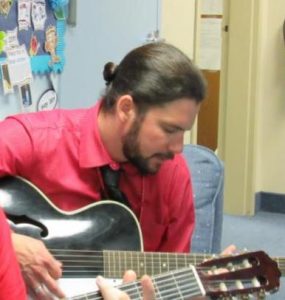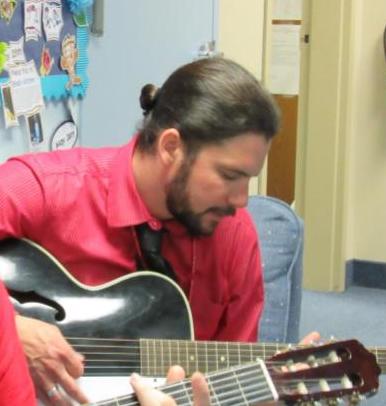 Tom Cassella, metaphysical music theorist and founder of Flower of Life Music is discovering the links uniting sacred geometry with frequency.  As a special education music teacher, Tom witnesses and utilizes the power of sound to promote self-esteem, concentration, and success for his students every day.  Dedicated to researching the healing power of music, Tom is creating healing frequencies to relieve the distress of disease and injury.  He has a special desire to assist those suffering under Post Traumatic Stress Disorder, anxiety disorders, and cancer to find relief, hope, and healing.  You can click the video below to hear the music he wrote for autism awareness.  To learn more about Tom's work and hear more of his musical compositions visit tomfom.com. He can be reached at 201-803-9539.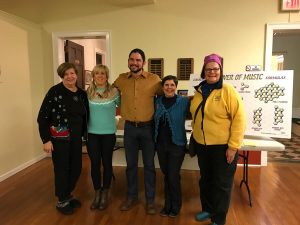 ---
December 2nd, 2016 – Robin Huffman Art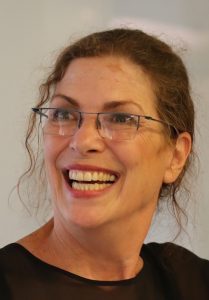 Robin Huffman is a dedicated champion of monkeys and primates in great need of human protection and respect. Her intimate paintings and photographs of these beautiful animals engage the heart and awaken the mind to the needs of primates around the world. Additionally, her unconditional love for these primates led her to release her corporate position to embrace her artistry and advocacy as a lifestyle. She truly lives from the heart, trusts in spirit to provide, and has offered her life to these beautiful beings on Earth. It is a pleasure to support her work and introduce you to the art of Robin Huffman. She encourages all of us to contribute to the care of these vulnerable primates and to hold their well being in our hearts, hands, and minds.
I'm the only person I know who is a painter of wild animals I know intimately, an experienced primate caregiver, volunteer and storyteller, with a 30-year corporate background. This gives me a unique niche as an artist dedicated to wildlife conservation and helping primates.
MY ART
I've created a body of work, portraits of orphaned primates I have cared for over the years, along with their stories and voices, to draw attention to their plight and show the world how close to us they are. I call this collection "Witness." It refers to the fact that most of these innocent creatures saw their mothers killed. And it refers to my having been a witness to their plight and the cruelty of humans.
I've also had the privilege to observe at close range their personalities, intelligence, emotions and growth. Each one has a story – tiny talapoin monkey Yoda, the peacemaker with the mighty spirit; Sunshine the baby baboon laughing nonstop, wrestling with his monkey friend Abida; and mandrill Maggie May with her seductive gaze.
For more information, please visit her website: robinhuffmanart.com
---
June 3rd, 2016 – Under Angels' Wings
Under Angels' Wings was created by two friends who began their journey together over 20 years ago while working for a large corporation. Valerie D'Oyen and Joan Wilkinson were drawn together by their common interest in natural healing and spirituality. Little did they know then that one day those interests would lead them to form Under Angels' Wings.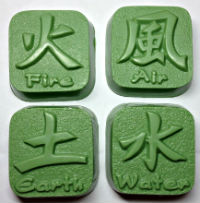 On a whim, in 2012 Valerie and Joanie decided to "play around" making soap utilizing essential oils. Valerie's 30 years of experience with aromatherapy was important in choosing which essential oils to use.
To their delight, they loved the way the soaps smelled and the way their skin felt and looked. After they gave the soaps to family and friends, they began to receive feedback regarding the positive results people were experiencing. They received so many requests for their soap that without a second thought, Valerie and Joanie decided to make the soap available for those who wanted it. They vowed that they would keep it at a reasonable price and would never compromise quality over profit.
Today, twice a month, the soaps are offered to the Veterans' Hospitals in East Orange and Lyons, NJ. There Valerie and Joanie found many people hungry for the healing benefits of essential oils. At the request of those treating Veterans suffering from PTSD, the product line now includes sprays and roll-ons.
It is an on-going "apology" between the two business partners that one of them has given away yet another soap to someone who needs it. This grant, for which they are so grateful, will be used to increase the number of gifts to our Veterans.
Under Angels' Wings also offers jewelry made with semi-precious stones. The stones used are chosen because of their reputed positive influence on mind, spirit and body.
Today, Valerie and Joanie remain focused on healing energies. Remaining true to their beliefs, all jewelry and soaps are created with love and infused with positive Reiki energy to help bring healing to their owners and their homes.
For more information, please visit their website: www.underangelswings.com.
---
December 11, 2015 – Linda Beg of Starseed Bakery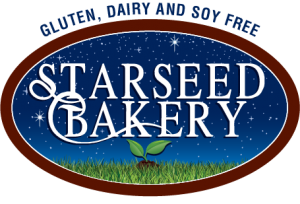 Starseed Bakery is a dedicated gluten free, dairy free, soy free and GMO free wholesale and retail bakery that opened in February of 2015 in Rockaway Borough, New Jersey . Navigating the rapidly changing world of food allergies, sensitivities, illnesses, and dietary restrictions is what Starseed Bakery is all about. "Imagine not being able to eat cookies!"
Owner and Founder, Linda Beg, always loved baking from scratch with an emphasis on nutritional baking and cooking. Recognizing that the definition of healthy ingredients these days can be very confusing for consumers, Linda's goal is to provide delicious tasting breads and baked goods that are free of the common allergens of gluten, dairy and soy, as well as free of genetically modified ingredients (GMO's) . Starseed Bakery uses locally sourced ingredients, 80% organic ingredients and source ingredients very carefully to ensure they are all GMO free. Sustaining our communities by supporting local businesses is a philosophy we wholeheartedly support.
We offer a variety of delicious, fresh baked breads and treats that allow people to once again enjoy the fresh baked goodness of your neighborhood bakery. "It's about trust" states Linda, "Who do you turn to when you don't trust the large food producers anymore". As people learn about the multitude of toxins in our food system, and experiencing the effects first hand, the move to local, less processed and wholesome food feels like the right choice, as well as the safe choice.
Starseed Bakery is committed to providing foods that are safe and delicious for everyone, whether you have a medical diagnosis or not. There are many wonderful healthy ingredients to replace what we've left out without sacrificing taste. So indulge, enjoy, and feel good.
For more information, please visit her website: www.starseedbakery.com.
---
July 18, 2015 – Dr. Jim Conroy and Ms. Basia Alexander

Dr. Jim Conroy and Ms. Basia Alexander are co-founders of the Institute for Cooperative BioBalance. They are grateful to be recipients and intend to use the award to continue their research work which is based on the philosophy "Live and Let Live." Research projects are detailed in their books Live and Let Live: How Multidimensional Collaboration Heals EcoSystems and Live and Let Live: Enlightened Stewardship.
Research projects so far include facilitating and monitoring EcoPeace Treaties® between Human Beings and
Emerald Ash Borer and Ash Trees at 8 sites in the Hudson Valley and New Jersey.
Deer and Demonstration Gardens at Genesis EcoLiteracy Center, Blairstown, NJ.
Lodgepole Pine Trees and Pine Bark Beetle at a dozen sites in Colorado
Apple trees and their diseases in the Berkshires, NY
Milfoil and Native Water plants in a lake, Brant Lake, NY
These EcoPeace Treaties and other early work have shown excellent success because the organisms co-exist and support one another within the context of a re-connected and rejuvenated whole emergent ecosystem. EcoPeace Treaties are three-way agreements accomplished in the realm of consciousness among two organisms that are usually at odds with each other (often "invasives" and their hosts) and people. Conroy and Alexander believe that as the consciousness of humanity shifts into a new mindset of collaboration with Nature's living Beings, EcoPeace Treaties will show that killing is obsolete.
The Institute for Cooperative BioBalance seeks to transform the global human frame of mind toward the idea of equal collaboration with the living Beings of Nature–including trees, plants, and "invasives"–through the philosophy of Live and Let Live. It calls forth–into action–those people who prefer to collaborate with trees, plants, and other ecosystem members in mutually beneficial ways via the systems of Tree Whispering® and Cooperative BioBalance®. It will bring forth–into reality–healthy and balanced co-existence within and between Nature Kingdoms, including people, via EcoPeace Treaties®.
They are authors of 7 books so far. They teach Tree Whispering® and Cooperative BioBalance® workshops regularly. Dr. Conroy is available for tree healing and ecosystem rejuvenation at private and public properties.
Please find out more at:
---
December 19, 2014 – Christina Lynn Whited
Christina is the founder of the Circle of Intention: School of Intuitive Sciences. She affirms gentle healing for the planet and peace and harmony for all.
Christina is the caretaker of a portal in High Bridge, NJ through which the celestial realms provide assistance to the Earth, especially at the solstices and equinoxes. This portal is also home to the fairies kingdom in North America. Christina channels the Fairy Queen at the Falls Walks which are held on the equinoxes and solstices. Her respect, care, communication, and collaboration with the fairies and also the Ashtar Command is wonderful to experience, and in better, is to participate in the work she does for the planet.
As a channel for Mother Mary, Christina shares herself as an instrument for peace. She provides the Spiritual Detox process to help clear the Akashic Records of those seeking profound healing. She also specializes in inter-dimensional photography, including the fairy kingdom and inter-galactic visitors.
She plans to utilize the grant to develop YouTube videos to share these inter-dimensional experiences with the world.
She can be reached at www.CircleofIntention.com.