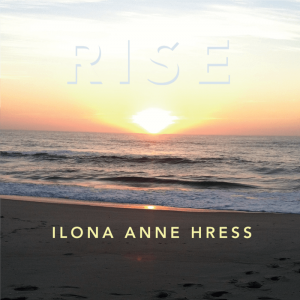 When you need hope, strength, acknowledgment, encouragement, and vision, RISE is here for you. Filled with the frequencies of soul-empowerment, this music moves you beyond your healing into your ability to collaboratively create new life. In these songs, the Divine Feminine honors your voice, your life experience, and your desire to embody your Soul. She nurtures you to become more than you have ever been, and offers you a vision of who you are becoming through the power of the divinity already living within you. As Healing Flows to help you Open Up, the Time to Trust is now as you Rise to new life.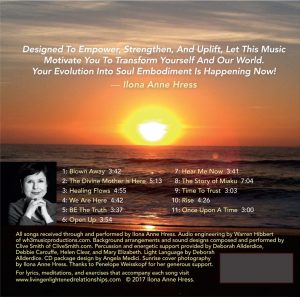 If you find yourself physically stuck, in a creative rut, or emotionally overwhelmed, listening to RISE, especially in headphones, will strengthen you as it simultaneously relaxes you. It is much easier to open to soulful insight and direction, when you are calm enough to receive it. At the end of this soul-empowerment experience, the calm clarity, emotional balance, and spiritual resolve, that will be yours will set you free to live your dream, share your spirit, and express the power of your own Soul. As you free yourself to live a soul-embodied life, you help others to rise to their own freedom of Soul expression. And together, we are creating an enlightened civilization of peace, contributing to the evolution of our own human race.
I am so privileged to share these frequencies with you and to offer meditations and exercises with each song. These are designed to further your soul-empowerment in practical, and also creative ways. You deserve to rise into a wonder-filled and deeply loved experience of life. Whatever has stood in the way of your joy, let RISE help you discover ways to dissolve the past into the possibilities of the present. Now is your moment to embody the power, presence, and creativity of your Soul and live an enlightened life.