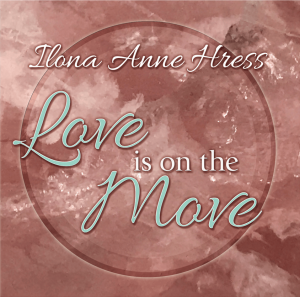 Unconditional loving is always on the move and never predictable. Guiding us through unending adventures into conscious awareness, we are filled with wonder, challenge, awakening, victory, compassion, empowerment, and joy from one moment to the next. Each of these songs awakens your capacity to unconditionally love so that you can recognize and utilize the transformative power that lives within you. These frequencies strengthen your multi-dimensional heart chakras and link them to the mind of your Soul so that you can consciously transform your life through the power of your loving. This is music that fills you up, and lifts you up, to be all that you truly are. These are songs that make you feed good to be purposefully alive.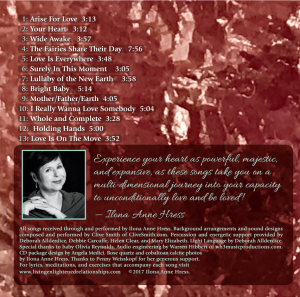 Beginning with frequencies that touch your heart and open your mind to the remembrance of your Soul's love for you, this album takes you on a journey from the birth of a baby to the evolution of a civilization. You are touched by the invisible assistance of fairies, as well as the support of celestial beings of light, including the planet we call home. With every frequency your feelings, thoughts, hopes, dreams, and memories are being supported to transcend the limitations of the third dimensional world, to embrace the freedom of the soul-embodied human being that you are becoming. Unconditional loving moves through these songs gently, easily, and joyfully into you, so that it can move through you in wondrous ways.
To support that loving flow, information on the stones and flower essences that complement each song are provided at www.livingenlightenedrelationships.com. By wearing the essence or carrying the stone, you can empower yourself to love and be loved in new and better ways. There are also meditations and exercises that further your experiences of soulful guidance and celestial support offered through each song. I am grateful that your Soul has lead you to listen to Love Is On The Move and I am so excited about the gifts that unconditional loving will be delivering into and through your life.